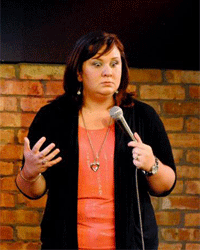 Michelle Miller
Michelle was born is a small town in North Carolina where she made others laugh as soon as she could talk. Michelle's talent has taken her around the world, but her southern roots still remain strong. One of the strongest young comics in the country, she was a finalist for the 2013 Florida's Funniest Competition. Her quick wit and southern charm are infectious and audiences fall in love. You have seen Michelle being featured on Nickelodeon's Nickmom Night Out, FOX, and on the New Comedy Revolution DVD.

She's a regular at some of the best comedy clubs in the country and her versatile show has delighted crowds at fund raisers, corporate parties, and churches. She is a regular performer at the Laugh all Night Comedy Concerts and is a national speaker for At The Well Ministries.
Kristin Weber
Kristin's parents gave her a comedic head start by home schooling her. She graduated college at 20 with a degree in journalism, packed up her car, and headed to the city where all home school parents hope their kids end up: Los Angeles.

Her clean, observant, occasionally alternative approach to comedy makes her a favorite at clubs, churches, colleges, and coffee shops. She has performed in some of the top comedy clubs in the nation including The Comedy Store, Flapper's, The Icehouse, The Improv, The Laugh Factory and universities such as USC and Western.

In addition, Kristin has a passion for youth and frequently speaks to middle and high school girls and writes for Sisterhood Magazine, a national Christian publication for teen girls. Her book, "The Smart Girl's Guide to God, Guys and the Galaxy", co-written with Susie Shellenberger, will be released by Barbour Books in 2014.